Custom Maple-Pile Benches Are Central at New UCLA Medical School Facility
The newest building at the University of California, Los Angeles' David Geffen School of Medicine will prominently feature custom site furnishings from Kornegay Design
The site—named Geffen Hall—is currently under construction and is expected to be complete in the Fall of 2016. Custom versions of the company's Maple-Pile Bench Series are placed in exterior locations throughout this innovative space. These nine benches will provide attractive and functional outdoor seating for the building's spacious courtyard, welcoming students, faculty, and guests to the school of medicine and the university at large.
At Geffen Hall
Geffen Hall was designed by world-renowned architecture firm Skidmore, Owings, & Merrill LLP (SOM). Since 1936, the firm has "completed more than 10,000 projects in over 50 countries," and is known for their "iconic buildings and [their] commitment to design excellence, innovation, and sustainability." Famous projects designed by SOM include Chicago's Willis Tower (formerly Sears Tower), New York City's One World Trade Center, and Dubai's Burj Khalifa, the tallest structure in the world.
The project's landscape design was handled by Mia Lehrer + Associates Landscape Architecture, an international firm based in Los Angeles. Mia Lehrer, FASLA is one of the nation's foremost landscape architects—she has a Master of Landscape Architecture degree from the Graduate School of Design at Harvard University, was appointed to the U.S. Commission of Fine Arts by President Obama, and has worked on numerous high profile projects, including most recently the Master Plan for revitalizing the Los Angeles River.
A longtime client of Larry Kornegay, Lehrer requested custom site furnishings of the caliber that Kornegay Design is always known to deliver. Kornegay worked with Lehrer and her team to design a custom version of the Maple-Pile Bench that suited her unique vision of Geffen Hall's courtyard.
Customizing the Courtyard
These custom benches are close to 8 feet in length, rather than the standard 7 foot Maple Pile Bench, providing added seating to accommodate the courtyard's function as a gathering place. They also forego the standard metal base for a continuation of the stacked wood that floats about 1 inch from the ground surface for a clean and natural look.
Called "a forum for active engagement," all who enter the School of Medicine will pass through it on their way to lectures, meetings, and social gatherings. The square courtyard is open to the sky and is truly the centerpiece of the new facility. The benches are strategically placed to ensure that on sunny days, rays warm those seated in every corner of the courtyard; other times, the enclosed space of the courtyard shields those inside from outside noise and harsh Santa Ana winds.
The area can become a thriving forum or a solace from the city outside, and the custom benches offer functional beauty. The look of the red maple lends itself to the creation of this multipurpose space like an urban garden, and the wood's special thermal treatment will allow it to withstand a variety of elements for decades to come.
Materials & Construction – Through the Fire
The Maple-Pile Bench Series is made of thermally modified, FSC certified red maple wood.
In the thermal modification process the wood is heated in a kiln to almost 900° Fahrenheit over various lengths of time. This process allows the resin of the wood to evenly distribute, darkening the wood's color and creating a homogenized hardness throughout the entire piece rather than the variegated hardness found throughout an untreated piece of wood.
The benefits, says Kornegay, are numerous: "Think of wood that is prematurely petrified; it is harder, more stable, and water repellant." The treatment also makes the wood unappealing to termites and other insects, and does so without the use of harmful chemicals. In this treatment the wood retains its natural character but can be used outdoors for an extended period of time.
The process of heating wood for added strength is actually hundreds of years old—Larry Kornegay has passionately described his interest in learning about the use of burned wood in everything from fence posts on old west ranches to Scandinavian Viking ships.
Design & Sculpture
The design uses 4½ inch planks with ¾inch spaces between them to reach the full length and width specifications. Each of the bench's overlapping layers alternates direction to create the spaces and lattice-work pattern of the finished product.
In Kornegay's own words: "I often explore movement and structure through repetition of form. There is emotional stability in a repeating module that moves through space and creates an endless pattern." In fact, the original prototype of the bench was a wood sculpture Kornegay made at this studio at home. The translation of his sculpture and site furnishing designs is a common thread in his products.
The custom benches from Kornegay Design provide ample accommodations for just that purpose: a stylish seating solution on which to eat a quick lunch or hold impromptu office hours, to congregate with peers and discuss the future of medicine, to rest one's feet after hours working in classroom or a lab. The thermally treated wood is prepared for all these scenarios and more, and the treatment process ensures extra resiliency, not unlike the intensity of curriculum that ensure med students become fire-tested health care professionals. The result is a combination that ensures neither the students nor their custom benches crack under pressure.
More About the Maple-Pile Bench Series
A sleek combination of form and function, the Maple-Pile Bench Series is made with the fine craftsmanship clients expect from Kornegay Design. The series is a departure from artist and designer Larry Kornegay's favored medium of cast concrete, but the thermally modified red maple wood retains the urban-meets-natural design theme to which Kornegay is always partial. The look of the bench, he states, is reminiscent of a "plaid log." In other words, naturally beautiful and durable but with contemporary style and sensibilities. Kornegay has brought the classic wooden bench into the twenty-first century with this patterned design. "The open spaces," he says, "let it breathe."
The standard Maple Pile Bench series, first introduced by Kornegay Design in 2011, features two sizes: The first is a long form bench measuring 84 inches (7 feet) in length, with a depth of 21 inches and a height of 17 inches, weighing in at approximately 310 pounds. The smaller short form bench offers a 21-inch square for seating that stands 17 inches high and weighs approximately 95 pounds. Both the long bench and the short bench are backless to offer two-sided use, allowing versatile seating arrangements in any space. Each option includes site levelers with installation.
Constructing Environmentally Conscious Products
Kornegay Design exemplifies their commitment to sustainability in the Maple-Pile Bench series. The original design plan was based on using teak, an extremely hard, weather-resistant, and resilient wood, but the thermally modified red maple was selected instead for its over-abundance and relatively low cost. This choice both lowers the price of the product and preserves the integrity of the design, while addressing the environmental concerns of teak production, and ensures that the structural integrity of the bench.
All the red maple wood used in the Maple-Pile bench is grown in responsibly managed forests, that are certified by the Forest Stewardship Council (FSC). This certification requires that the forests meet a set of 10 principles and 57 criteria, including a responsibility for environmental impact, indigenous people's rights, and constant monitoring of a forest management plan. The treatment of the wood is also sustainable, using absolutely no chemicals to ensure weather and insect resistance.
About the David Geffen School of Medicine
The site of Geffen Hall is at the center of a wealth of learning opportunity that is both literally and figuratively vast. UCLA is consistently ranked among the best universities in the nation and the world, and the David Geffen School of Medicine is no exception. Renamed in 2002 for the generous donation of well-known music executive and philanthropist David Geffen, the school is a hub for thousands of medical students, post-doctoral trainees, and full-time faculty, all dedicated to advancing medical science. It is located in the heart of one of the world's most populous cities, giving unprecedented access to vast samples for medical research, and drawing visitors from across the globe. Beginning in the Fall of this year, countless hosts of them will now enter through Geffen Hall and its luscious courtyard, making use of the beautiful and durable new custom benches from Kornegay Design.
View Maple Pile Bench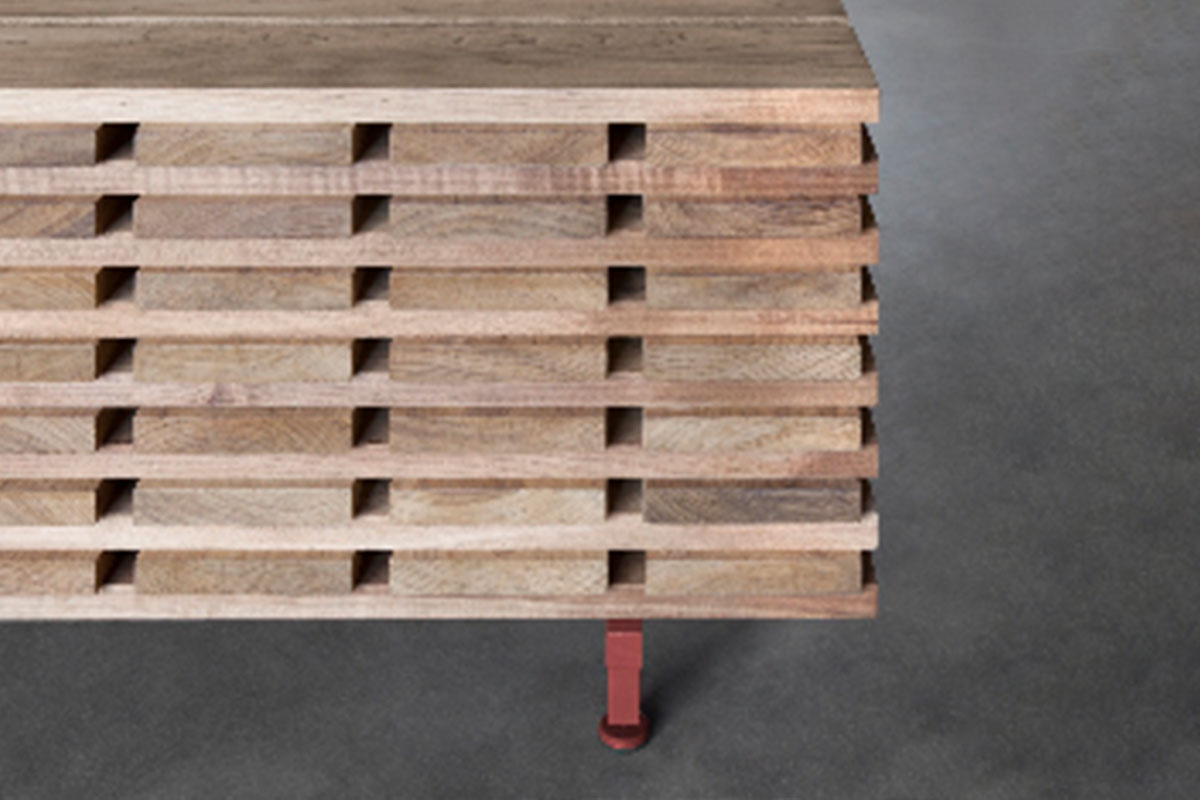 About Kornegay Design
Kornegay Design, a Landscape Forms Company, is a Phoenix-based landscape architectural designer and manufacturer of cast concrete site furnishings. It was founded by Larry and Paula Kornegay in 1997. Kornegay Design is dedicated to creating original, timeless designs realized through exceptional craftsmanship. It has been awarded and recognized by leading landscape design and architectural organizations and publications for its work.
About Landscape Forms
Landscape Forms is the industry leader in integrated collections of high-design site furniture, structures, accessories, and advanced LED lighting. Since its founding in 1969 Landscape Forms has earned a reputation for excellent design, high quality products and exceptional service. The company is headquartered in Kalamazoo, Michigan, and includes Kornegay Design, located in Phoenix, Arizona, and Loll Designs, in Duluth, Minnesota, in its family of brands. It has sales representatives throughout North America, South America, the United Kingdom, Australia, the United Arab Emirates and Asia. Landscape Forms collaborates with renowned industrial designers and consultancies, landscape architects, and architects to design and develop integrated collections of products that address emerging needs and help create a sense of place. Additionally, the company has formed global marketing partnerships with select companies that share its commitment to design. Landscape Forms has an installed base of products around the world. Clients include municipalities, transit centers, corporate, college and health care campuses; and familiar brand leaders such as Harvard University, Linked In, New York Central Park Conservancy, Bryant Park, Google, Coca Cola, Oculus, U.S. Tennis Association (USTA), Nike, National Museum of African American History (Washington, D.C.), Barclays Center, Adidas, Children's Hospital of Philadelphia, Microsoft, and Uber. We've been named one of the Best Workplaces in Manufacturing & Production for 2020 by Fortune magazine, Michigan Manufacturer of the Year for 2020 and 2021 by the Michigan Manufacturers Association, and by 269 Magazine as one of Southwest Michigan's Wonderful Workplaces.