Kornegay Design Introduces The Cirque Series
(Phoenix, Arizona) – Endeavoring to elevate the basic cylinder shape was the mission artist and designer Larry Kornegay chose to fulfill in the Cirque Series. A practitioner of understated design, Kornegay always seems to find his answer in nature.
The Cirque Series containers are comprised of 24 facets; the planes circle the form in 15-degree increments. This arrangement is kindred to the earth's rotation that moves around its own axis at 15 degrees each hour, completing the cycle in 24 hours with one rotation.
Light energizes the Cirque surface as the series of facets are illuminated in a gradation from light to dark shades of value. The graceful tapering of the container base suggests a pedestal foundation. A tactile and visual treat is caressing the facets on the slanted rim and discovering that they continue to the bottom of the container's interior, bringing life to the inside as well as the outside.
The Cirque Series consists of three sizes of landscape containers.
With the addition of the Cirque Series, Kornegay Design now offers 11 distinctive styles of cast concrete landscape containers. As well as 3 litter receptacles. All products are made with the intent of providing beauty and long-term structural integrity in extreme weather and public sites.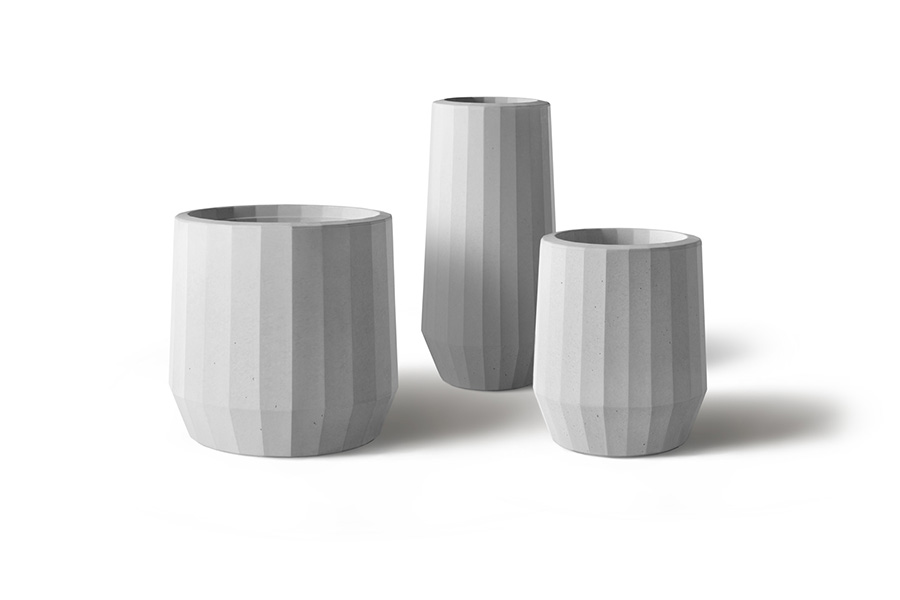 About Kornegay Design
Kornegay Design, a Landscape Forms Company, is a Phoenix-based landscape architectural designer and manufacturer of cast concrete site furnishings. It was founded by Larry and Paula Kornegay in 1997. Kornegay Design is dedicated to creating original, timeless designs realized through exceptional craftsmanship. It has been awarded and recognized by leading landscape design and architectural organizations and publications for its work.
About Landscape Forms
Landscape Forms is the industry leader in integrated collections of high-design site furniture, structures, accessories, and advanced LED lighting. Since its founding in 1969 Landscape Forms has earned a reputation for excellent design, high quality products and exceptional service. The company is headquartered in Kalamazoo, Michigan, and includes Kornegay Design, located in Phoenix, Arizona, and Loll Designs, in Duluth, Minnesota, in its family of brands. It has sales representatives throughout North America, South America, the United Kingdom, Australia, the United Arab Emirates and Asia. Landscape Forms collaborates with renowned industrial designers and consultancies, landscape architects, and architects to design and develop integrated collections of products that address emerging needs and help create a sense of place. Additionally, the company has formed global marketing partnerships with select companies that share its commitment to design. Landscape Forms has an installed base of products around the world. Clients include municipalities, transit centers, corporate, college and health care campuses; and familiar brand leaders such as Harvard University, Linked In, New York Central Park Conservancy, Bryant Park, Google, Coca Cola, Oculus, U.S. Tennis Association (USTA), Nike, National Museum of African American History (Washington, D.C.), Barclays Center, Adidas, Children's Hospital of Philadelphia, Microsoft, and Uber. We've been named one of the Best Workplaces in Manufacturing & Production for 2020 by Fortune magazine, Michigan Manufacturer of the Year for 2020 and 2021 by the Michigan Manufacturers Association, and by 269 Magazine as one of Southwest Michigan's Wonderful Workplaces.