Larry Kornegay
Larry Kornegay's professional life in art began as he graduated from Arizona State University with a Degree in Fine Art with an emphasis in drawing and painting. Early on in his career he worked as a graphic artist and sign painter. He also designed and constructed theme park structures throughout Arizona and California. In 1986 he co-founded Studio Productions, Inc., a company specializing in the design and production of architectural signage and environments. As the company's Design Director, Larry designed many landmark projects. In 1997, a return to his personal work led to the founding of Kornegay Design, LLC.
On a whiteboard in a back room of the Kornegay Design facility in Phoenix, Arizona reads the succinct mantra, "How does it look?" The deceptively simple phrase, jot down years ago by Larry Kornegay, remains a fixture on the umber walls of the beautifully appointed and immaculately landscaped desert studio.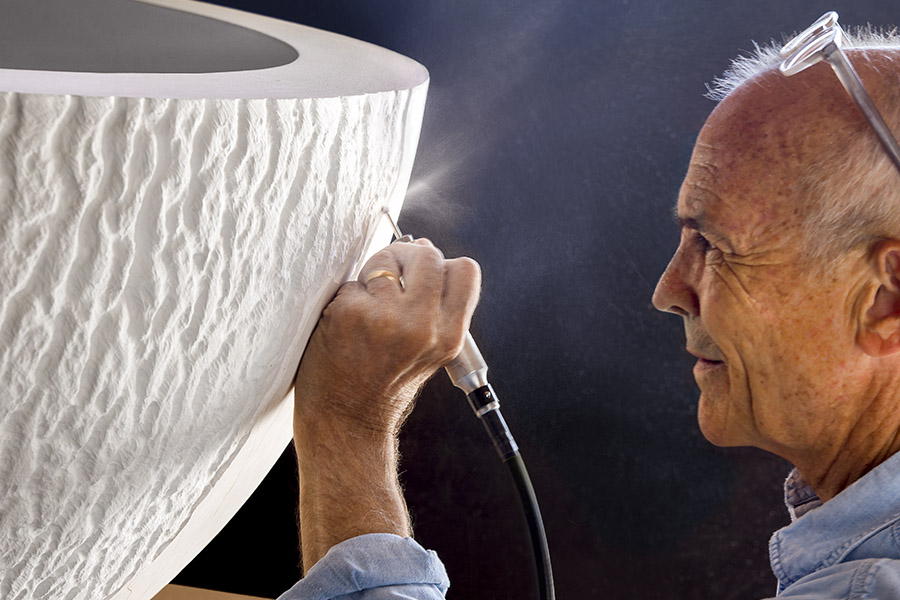 Artist Biography
While the "How does it look?" mantra may seem a bit straightforward for a design-oriented company, it is truly reflective of the dedication to detail and priority of artistic integrity that define Kornegay Design's day to day operations. This principle of "beauty above all" extends far beyond the brand's products to guide everything from the visuals in advertising, the landscape architecture surrounding the property, and even the way the tools are organized in the shop.
Drawing from Larry Kornegay's experience and a diverse knowledge of materials and building techniques, Kornegay Design has earned a reputation among landscape architects for its elegant design language, acute attention to detail, and inventive sustainable practices in the production of large-scale handcrafted precast concrete site furnishings. The Scottsdale Center for the Arts honored Larry with a solo show of his work including more than twenty sculptures and drawings.
I've always loved concrete. My first exposure was through my grandfather who was working on a concrete bridge near Show Low, Arizona—to this day, I still have some of the old trowels he used in that project. Concrete is so compelling because you think of it as this rigid, hard medium, but it has remarkable intricacies. When you pull the sides off a mold in the morning, its warm because of the cure process, it's slightly damp and smooth. I'll even stick my head in the mixer just to smell it—it's a wonderful sensory and tactile experience." — Larry Kornegay
Designs by Larry Kornegay
Rooted in an affinity for the landscape and a lifetime of dramatic architectural imagery, designer and artist Larry Kornegay finds much of his inspiration within the beauty of nature. Larry's love of concrete as a sculptural medium, combined with his passion for gardening and fine architecture guided the design of his landscape containers and site furnishings, resulting in a presence all their own in both the natural and built environments.