Ian McDonald
The first to join Kornegay's Visiting Artist Program, Ian McDonald is an artist with a unique philosophy that plays at the distinctive intersection of sculpture and craft. One of today's most regarded potters with a portfolio that ranges from traditional vessels to free-form sculpture and mixed-media installations, his experience has led him to the current position of Head of Ceramics at the renowned Cranbrook Academy of Art. Here, Ian leads a rigorous studio practice that explores the ceramic spectrum, finding inspiration in its position as a material for conceptual form and idea making.
His diverse experience and multifaceted approach to his art make him the perfect partner for us, furthering our longstanding commitment to creating original, timeless designs realized through exceptional artistry and craftsmanship. The Offset Series, Ian's collaborative series with Kornegay was released in March, 2020.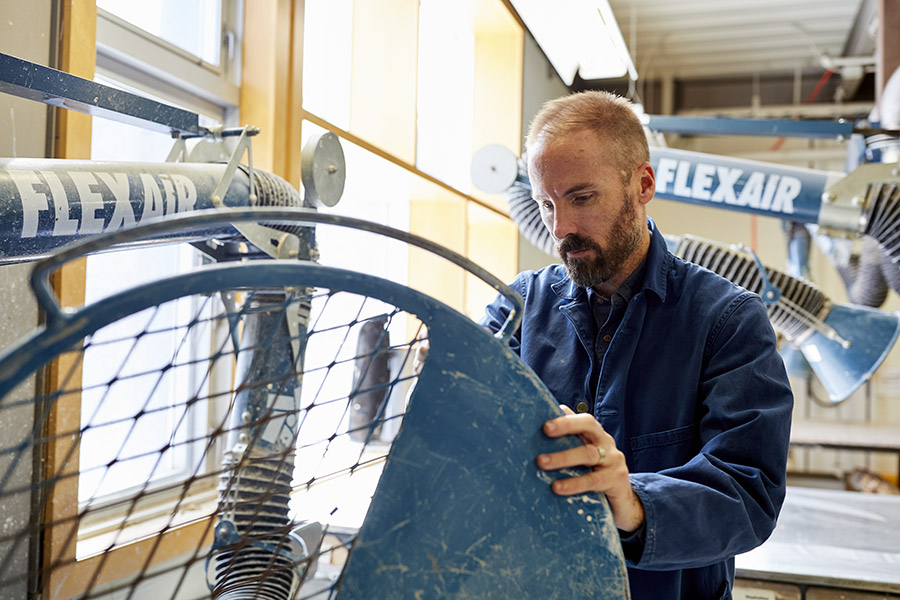 Ian McDonald's Artistic Approach
Ian's unique artistic approach and set of experiences guided his work at on the Offset Series in collaboration with Kornegay. He built on his seminal work at Cranbrook to develop a new mutual relationship of design, the crafts, sculpture, industrial design and engineering.
Of his intentions for the collaboration, Ian McDonald describes that he wasn't interested in simply taking one of his previous signature forms, enlarging it and transforming the material. Rather, Ian used his diverse artistic vocabulary to guide new concepts that are large in scale, exploring different material possibility and embracing the outdoor space.
As he translated the personal and self-expressive context of his current practice to the very public and global context of his new work with Kornegay, Ian looked to the myriad textures, forms and finishes that are inherent to precast concrete as surrogates for his hands—the potter's ultimate tools for shaping his art with creativity, authenticity and integrity.
My artistic vision is probably best described as 'sculpture through the lens of a potter,' which creates a wonderful tension between form and function—with design at the epicenter." – Ian McDonald
Offset by Ian McDonald
Softly architectural, graceful and refined, Offset is a public scale, precast concrete landscape container series for Kornegay Design by ceramicist Ian McDonald. A delicately striated surface finish and a slight 'offset' to the container's opening make for a gracefully understated yet unmistakable form. Each container, while expressive in their proportions and scales, share a common calm spirit.