Landscape Architecture Foundation (LAF) Founders' Award
(Phoenix, Arizona) – Kornegay Design, a Phoenix-based landscape architectural design and manufacturing company, is proud to have been chosen to design and collaborate on a unique and unprecedented award for the Landscape Architecture Foundation.
The Landscape Architecture Foundation (LAF) Founders' Award is an award that is conveyed to a firm, agency, or organization that demonstrates a significant commitment to preserving, creating, or enhancing landscapes over a sustained period of time. The award may be given to landscape architecture groups, but is not limited to the profession.
The most recent edition of this reward was designed by Larry Kornegay, a sculptor of sustainable material inspired by nature and fine architecture.
"The seed and pod approach to this award expresses the need for constant vigilance and nurturing of the environment around us."- Larry Kornegay
The first recipient of LAF's Founder award is the American Society of Landscape Architects. According to Awards Committee Chair Dennis Carmichael, FASLA,
"Founded in 1899, the American Society of Landscape Architects is the first organization in the world to promote the practice and ethics of landscape architecture as a profession. ASLA serves as the premier advocacy and educational forum for landscape architects, with its core vision to lead design and stewardship of land and communities." –Dennis Carmichael
The award is given in conjunction with the LAF Medal. This award is conveyed to a landscape architect for distinguished work over a career in applying the principles of sustainability to landscapes. This year's recipient is Grant Jones, FASLA.
Both awards are made annually, with the winners announced and honored at an LAF dinner in the spring. The awards will be given out each year, over a ten-year period.
The Founder's Award was created in collaboration with a number of artisans:
Designed by Larry Kornegay
Nicomia Custom Design + Fabrication (seed and pod patterns and pod mold); Eastern Products Foundry, Inc (bronze seed); Tuomisto Bell Studio/Foundry (bronze patina); Tempe Trophy (etched text); Larry Kornegay (concrete base)
Photo Credit for award: Bill Timmerman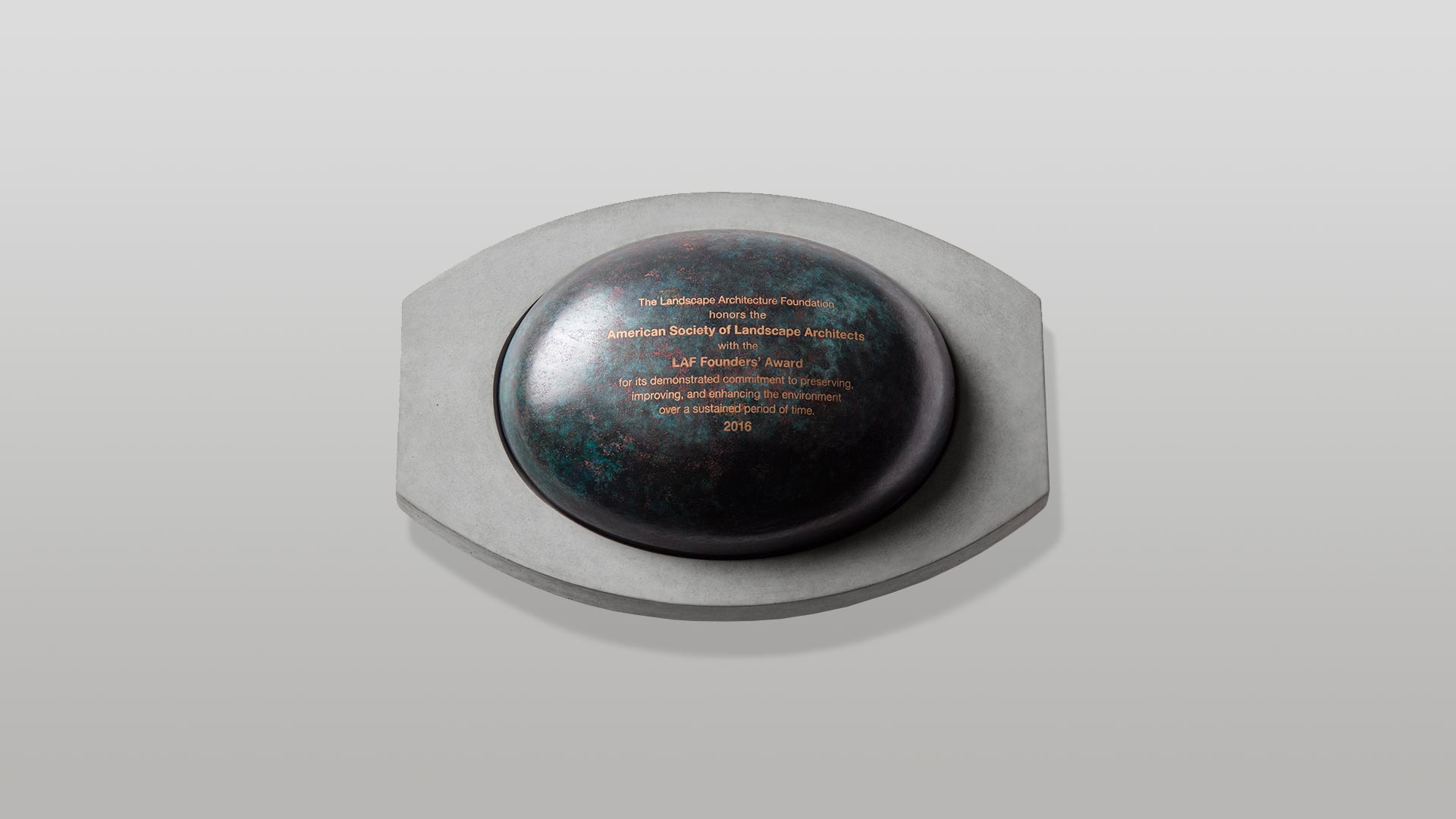 About Kornegay Design
Kornegay Design, a Landscape Forms Company, is a Phoenix-based landscape architectural designer and manufacturer of cast concrete site furnishings. It was founded by Larry and Paula Kornegay in 1997. Kornegay Design is dedicated to creating original, timeless designs realized through exceptional craftsmanship. It has been awarded and recognized by leading landscape design and architectural organizations and publications for its work.
About Landscape Forms
Landscape Forms is the industry leader in integrated collections of high-design site furniture, structures, accessories, and advanced LED lighting. Since its founding in 1969 Landscape Forms has earned a reputation for excellent design, high quality products and exceptional service. The company is headquartered in Kalamazoo, Michigan, and includes Kornegay Design, located in Phoenix, Arizona, and Loll Designs, in Duluth, Minnesota, in its family of brands. It has sales representatives throughout North America, South America, the United Kingdom, Australia, the United Arab Emirates and Asia. Landscape Forms collaborates with renowned industrial designers and consultancies, landscape architects, and architects to design and develop integrated collections of products that address emerging needs and help create a sense of place. Additionally, the company has formed global marketing partnerships with select companies that share its commitment to design. Landscape Forms has an installed base of products around the world. Clients include municipalities, transit centers, corporate, college and health care campuses; and familiar brand leaders such as Harvard University, Linked In, New York Central Park Conservancy, Bryant Park, Google, Coca Cola, Oculus, U.S. Tennis Association (USTA), Nike, National Museum of African American History (Washington, D.C.), Barclays Center, Adidas, Children's Hospital of Philadelphia, Microsoft, and Uber. We've been named one of the Best Workplaces in Manufacturing & Production for 2020 by Fortune magazine, Michigan Manufacturer of the Year for 2020 and 2021 by the Michigan Manufacturers Association, and by 269 Magazine as one of Southwest Michigan's Wonderful Workplaces.